Capabilities
NaiDe provides complete automation solutions: Concept---Design---Building---Service---Program Management
Naide specializes in the custom automated system and equipment tailored to any assembly and testing need. Here, you may get more information about:
Our approaches to understanding and satisfying your specific automation demand
Our solutions of maximizing performance in the range of your resource requirements (including on schedule and at budget)
Incorporated with various knowledge and skills, we repeatedly analyze and discuss the automation solution to fit into your any industrial need. The whole process mainly includes the following procedures:
First, we are supposed to better know your demand. The key information on such factors as budget, delivery timeline and production volume can help us understand your needs accurately and plan your project reasonably. This is the basis of a correct concept.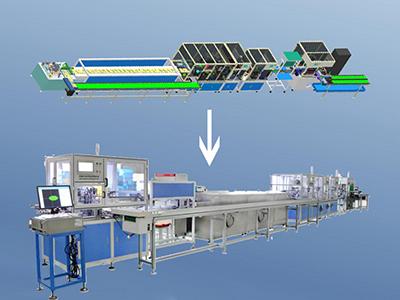 The concept is formed by:
Visiting customer worksite or analyze customer samples
Creating an initial plan (2D draft and process flow diagram) and discussing it repeatedly
Using SOLIDWORKS to create 3D models
Testing the plan by experiment
After the stage of concept, we begin to design the detailed solution. NaiDe is an automation system innovator with superb knowledge, creativity and imagination. Our goal is to deliver optimum results for your business.
During the design and manufacturing process, the timely communication can make it easier to complete your project. Experienced engineers from R&D, product and electrical department gather together to analyze and discuss the preliminary design repeatedly and then constantly improve it by discovering and solving defects. In the design phase of your project, the valid solution is quite essential.
Mechanical Design:
We use SOLIDWORKS to create 3D models for functional layout and transfer line (process flow). Besides, our engineers are required to create the mechanical design for each processing link.
Control System Design:
We focus on designing the reasonable control system of assembly and testing machines to ensure coordinated activities of the whole automated system.
Safety Design:
The safety of assembling, testing and using machines is the paramount factor when we design the mechanical structure.
Our experienced and skilled operators enjoy the process from a prototype to an actual manufactured part.
CNC Machining
Mechanical Assembly
Controls Assembly
UL Panel Building
Test, Debug
We are able to offer a series of superior service from start to finish, even before issuing a purchase order.
Our experience and expertise allow us to provide the perfect solution before manufacturing, which reduces the risk of problems occurring later to a minimum.
Our prompt and accurate quotation and schedule can present you the latest information in the project. The detailed project timeline and regular communication help you to track project progress easily.
Even though the project has been delivered, we still continue to offer the best after-sales service for our valued customer. We are capable of guaranteeing the smooth running of all equipment all the time. If you have any questions, please contact me. We are ready for any challenge you may face.
(More details of service & support are listed below!)
Program management is the basis of successful project. We can provide a clear and detailed schedule for each project and strictly implement the schedule to guarantee superior quality control. NaiDe fully understands the significance of quality to our clients.
Start
At the beginning, it is crucial to understand your product. The more we know, the more you get. Based on the deep understanding of your needs, we endeavor to create the cost-effective design for each valued customer.
Supervision
As automated system technicians, our project managers are responsible for running the project smoothly. They have capacity of solving problems and improving program in order to comply with your requirements.
Ongoing Support
During the project, we can offer the full-service and support to ensure your effective communication with team members. Major problems that you might encounter can be solved by our professionals in time.
MORE SERVICE
Installation, Debugging and Training
Equipment Training Courses
Training courses at our locations

The training courses consist of operator, maintenance and programming training, including but not limited to debugging machines, maintaining mechanical, hydraulic and electrical system.
We offer about one-week training courses when customers send staff to NaiDe for pre-acceptance. Besides, customers are allowed to assign technicians to learn equipment installation and debugging in the pertinent stages, which is beneficial to their capacities of understanding machines and handling faults.

Training courses at your facility

The training courses consist of operator, maintenance and programming training, including but not limited to debugging machines, maintaining mechanical, hydraulic and electrical system.
We offer about one-week training courses in the stage of final acceptance at your facility. Technicians can master the automation technology and skillfully operate machines.
Equipment Packing and Shipping
Packing: we have the standard packaging system to protect equipment from damp, water and rust for safe delivery. All losses caused by improper packaging can be afforded by NaiDe.
Shipping: sea freight transportation for delivering quality equipment on-time
Checking: when you receive equipment, please verify the model, specification and condition. If there is any loss, corrosion or damage of equipment, please contact us in time.
Equipment Installation and Debugging
Within one and half month before delivery, NaiDe offers the layout of equipment to customers. So they can make preparation for installation ahead of time, such as arranging the place and laying power line.
After loading, the both sides check the equipment according to the scope and list of supply and then make records. Please contact NaiDe if you have arranged your facility well and get ready for the next step. Within 10 days after receiving your notice, NaiDe will send professionals to your place for installing, debugging equipment and final acceptance.
After Sales Warranty
NaiDe grants a 12-month warranty period on the confirmed delivery date. During the warranty period, the downtime caused by equipment failure will be added to the warranty period automatically. Within 24 hours after receiving your notice of failure, Naide can offer the pragmatic solution and help you to deal with the problem.
During the warranty period, customer can maintain the malfunctioning equipment with our consent and we can provide related accessories for client. If customers have any trouble in solving failure, NaiDe is capable of replacing or repairing the equipment free.
After Sales Service
NaiDe provides the lifetime service and accessories for clients. All softwares enjoy free upgrading.
Beyond the warranty period, we continue to offer the compensable service of accessories and maintenance.
Client Confidentiality (NDA)
Naide diligently protects confidential information of our valued customer in any form. Within 20 years, we must keep the data both confidential and safe from loss. If a breach of confidentiality occurs in NaiDe, any loss that clients suffer can be afforded by us. Meanwhile, clients reserve the right to follow legal action.